Year 6
Welcome to our class page. Here you will find all of the exciting things that we are getting up to in Year 6. Whether you are a child or a parent, this section will have information to help you maximise learning and find out about what is going on, including homework, curriculum details for each year group and wider learning opportunities.
Mr Cox and Miss Fitzpatrick
This year our P.E. lessons are on Tuesday and Friday.
Please remember to sign reading diaries daily - if a diary is left at school a signed note is fine.
This week in Year 6
5th July
Year 6 have been busy practising for their end of year production. Performances will be on Monday 8th July at 1.30pm and Tuesday 9th July at 6pm. Please could children arrive at school for 5.30pm for the evening performance on Tuesday.
This week we began our Sex Education Lessons, the children started to learn about the changes both boys and girls make as we go through puberty.
We have had a very busy week this week, with lots of visitors. On Wednesday, we had a visit from Dogs Trust to explain about the costs of looking after a dog and how dogs are used at war and in the police force. On Thursday, we had a visit from the NSPCC Speak out campaign.
Well done to the children who participated in the Herefordshire Summer Games this week.
7th June
We have had a jam-packed week full of exciting activities as part of our carnival arts week. We began the week by creating our very own carnival masks, using glitter and feathers. The classroom was covered in glitter by the end of the lesson.
On Tuesday, some of us had the chance to watch Sri Lanka play Afghanistan in Cardiff for the Cricket World Cup 2019. It was a sensational day out.
On Thursday, we were incredibly lucky to participate in a music workshop, with a carnival theme from Bym.
Please could all children continue to practise their lines for the end of year production. We will be holding singing workshops at lunchtime for those who have a solo in the play.
Orphans
Slop
Orphans Reprise
Happiness Somewhere
London
I Want To Be A Lady
Good Times
Let's Go To The Opera
If There's A Star
That's Life
The Charity Rag
Who Am I?
Here Comes The Judge
The Criminals Song
The Convicts Child
The Criminals Song Reprise
If There's A Star Reprise
Olivia Finale
14th May
The Year 6 adults are incredibly proud of the all of the children this week, they are working exceptionally hard and thoroughly enjoying their treat in the mornings - bacon and sausage sandwiches. Keep up the hard work!
Next week is our residential to Ironbridge. If you have any questions, please feel free to pop in and speak to Miss Fitzpatrick. Please make sure all forms are returned to Miss Fitzpatrick, to ensure a smooth departure from school next week.
3rd May
We have had a super start to the summer term. Year 6 have worked incredibly hard and have shared their stories from their Easter holidays.
Next week, we have a meeting regarding the residential to Ironbridge (7th May at 6pm).
12th April
The last week of the spring term has been very eventful.
On Thursday, we participated in the annual Bunny Bounce event. We jumped to our hearts content. Later on in the afternoon, we were fortunate enough to have students from Hereford Sixth Form College visit our school and demonstrate their musical abilities. They performed a mini concert for the whole school. We enjoyed listening intently.
On Friday, Year 6 had their termly raffle prize session. Well done to all of the children who received a raffle prize, keep up the hard work next term.
A huge congratulations to our Spring Term Award Winners. You should all be proud of what you have accomplished.
To finish off a fantastic term in Year 6, we watched Harry Potter and the Philosopher's Stone - which we have been reading since the start of the Spring term. Mr Cox and Miss Fitzpatrick even treated us to some popcorn for our hard work and determination this term.
Year 6 children have been given a spelling booklet to look at at home during the Easter holidays and in the lead up to SATs. We encourage children to practice 15 random spelling words from the list each day. When the children return to school after Easter, we will be selecting 20 words from the list each day to test the children.
The Year 6's have also been given a Maths booklet. Children have been asked if they can complete 10 minutes of Maths every day for 10 days. We have also provided them with an answer booklet, to help them check for any misconceptions through out the holidays. If there are any challenging questions, please show them to Miss Fitzpatrick and Mr Cox when you return after Easter. We will be more than happy to help with any problems you may have.
Most importantly, we would like children to relax and enjoy their Easter holidays. We cannot wait to hear about all the adventures they participated in, during their time away from school.
Have a lovely Easter from the Year 6 Team.
29th March
We have started to learn about the nutrients that are involved in our meals. On Thursday, we learned how to make quiches and discussed the key nutrients needed. Please encourage your child to identify the nutrients in your meals at home.
House captains and Sports Crew children had training from Peter Knight on how to be play leaders. The children thoroughly enjoyed their training and will begin mentoring the KS1 children next week at playtime.
14th March
We have had a busy week this week. S.T.E.M week has been packed full with lots of learning, experiments, guests visitors, a school trip and a science fair.
On Monday, Mark Sanderson visited the classes and introduced us all to coding.
On Wednesday, we visited the Big Bang show at the N.E.C. in Birmingham.
We have also been incredibly busy making electrical buggies and writing a health and safety guide.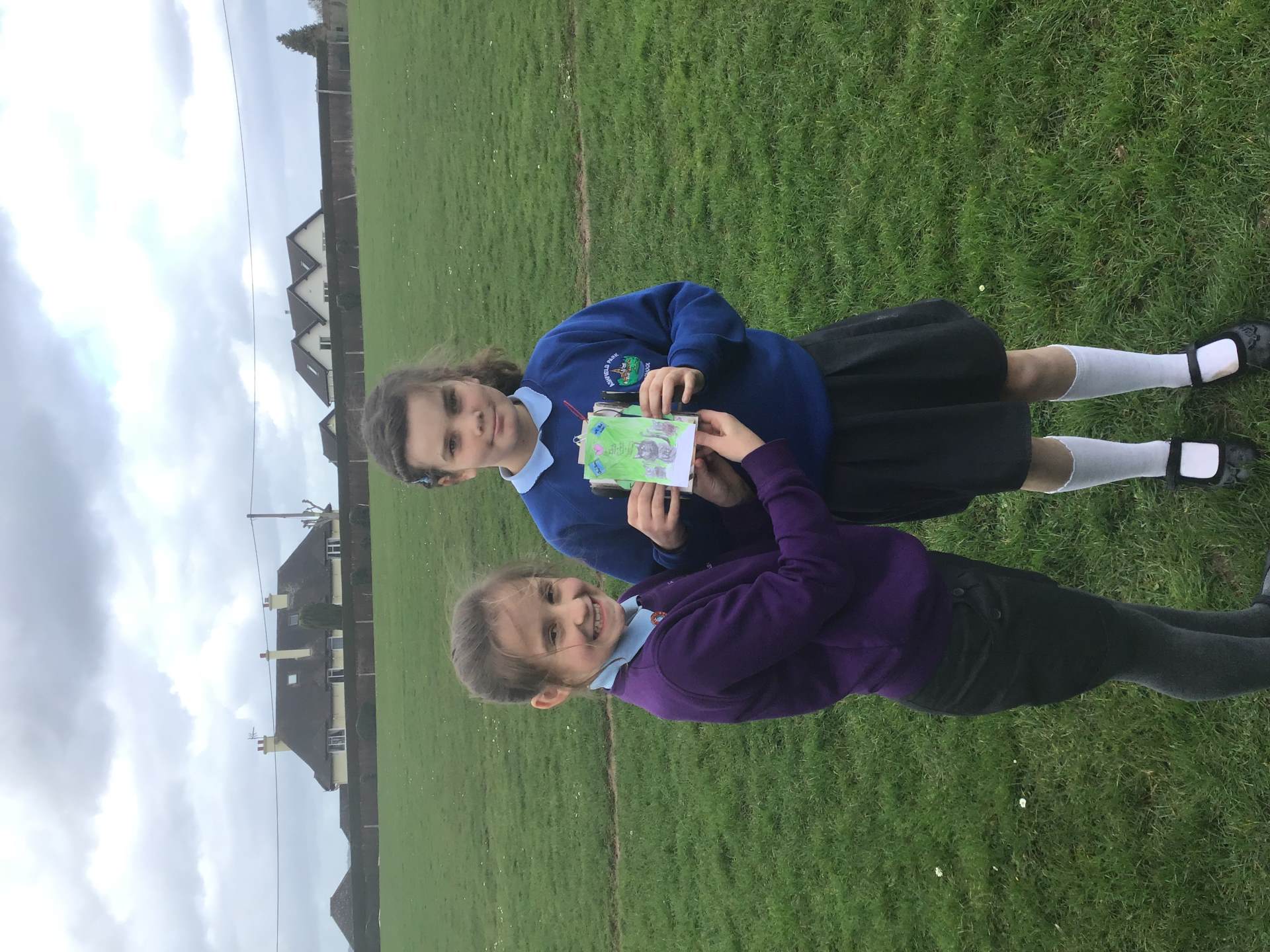 8th March
Thank you for all of your support with our topic homework exhibition last week. The children worked really hard and produced work that they really should be proud of.
All of the children looked fantastic on Thursday for World book day. In the afternoon, the children had the opportunity to participate in a game of quidditch.
A reminder that next week, (Wednesday 13th March) we will be returning to the Big Bang Fair. Your child will need to be in school by 8:15am and we will be back at school by 4.30pm approximately.
28th

February

We hope you had a restful half-term break.

On Tuesday, we were very lucky to have a taster session with Emily from Chance to Shine cricket coaching. She taught the children how to bowl and allowed them to participate in a short tournament.

The topic homework exhibition in on Friday 1st March at 2.30pm in the KS2 hall. We would like to take this opportunity to say a huge well done to all of the work the children have done in preparation for this.

A reminder that on the 13th March we will be returning to the Big Bang Fair again. Could you please make sure your child returns their consent form back into school ASAP.
15th February
This week, we have provided the children with log in details to access the Math Shed. Children should be encouraged to access Math Shed to challenge their mathematical abilities. All children have been provided with log in details. If there are any problems please speak to Miss Fitzpatrick or Mr Cox.
This is a reminder that there is the topic homework exhibition on the 1st March at 2.30pm and work will be left out for parents to view until 5pm.
We hope you all have a lovely half-term.
7th February
This week we have been looking at how to be safe online as part of Safer Internet Day 2019. We discussed with the children what we should be sharing online and what to do if something appears that we are not sure of. Please continue to have these conversations with your children at home and make them aware of the importance of being safe online.
1st February
This week we have been creating our own scientific experiments to understand how the size and shape of a shadow may be affected when the distance between an opaque object and the light source changes.
Today we were very fortunate to have snow at school. We all enjoyed having fun playing in the snow and building snowman. We were inspired to create a winter picture in Art, which included us using our skills of mixing and blending colours to create lighter and darker colours. We also were able to use different textures to create silhouette images on top.
25th January
This week we have continued to learn the story of King Kong through hot seating, character analysis and story mapping.
In Science, we have been consolidating our learning of how light travels in a straight lines through an investigation with periscopes.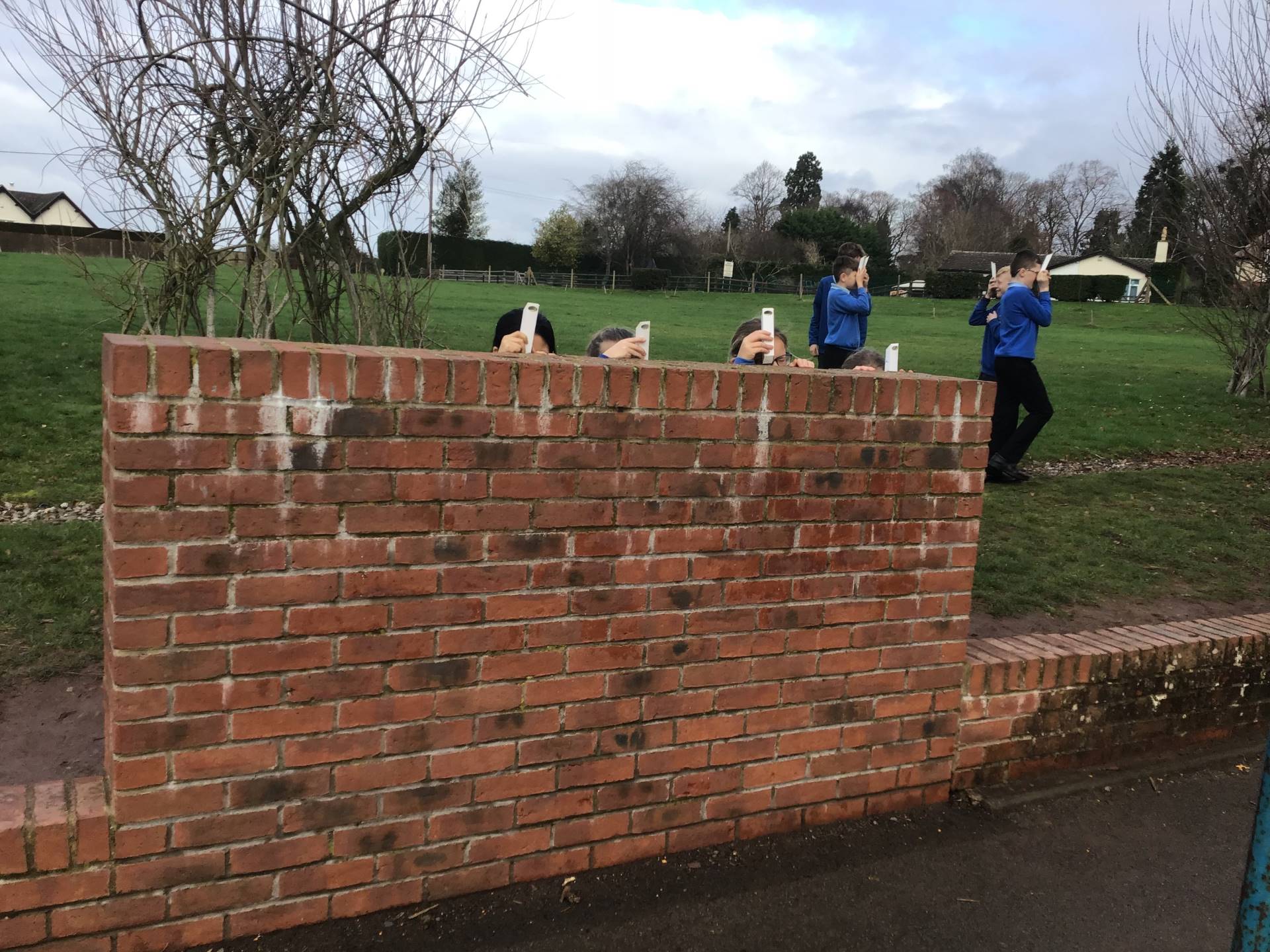 Homework is handed out on a Thursday, this could take the form of a worksheet or on My Maths. All children have been given their My Maths login details. If there are any problems with their login details or problems accessing the homework please come and speak to a member of the Year 6 team.
15th January
2019 is off to a great start. We have been working incredibly hard in all of our subjects. We have started to read the story of King Kong in Literacy and learn interesting facts about North America.
Our new P.E. units are Gymnastics and Basketball. We have really enjoyed learning about the different ways we can travel and exploring the different types of apparatus.
Children have been given their topic homework for the term which will be displayed in a topic exhibition.
17th of December...
...is a very busy week for the whole school indeed.
Year 6 have been busy rehearsing traditional Christmas carols for the whole school performance on the playground this Friday at 2:15 (this will be held in the KS2 hall in event of inclement weather).
Also this week we have our whole school Christmas dinner on Thursday followed by the year 6 Christmas party in the afternoon. Remember to book for dinner and bring a change of clothes for the party. No party food please as they will have just had a rather large lunch!
On Friday the year 6s will get a chance to cash in all those raffle tickets they have been hoarding this year in our class raffle and hopefully win some lovely prizes! Make sure to empty your drawers year 6 and enter all tickets into the raffle!
We also have our termly prize giving assembly for those children who have made exceptional progress in a variety of areas. It has been very difficult to choose children this term due to the fantastic attitude displayed by all member of year 6!
Finally, we would like the cloakrooms emptied ready for the holidays so it may be a good idea to bring a plastic bag if you know you have a lot of things to take home this Friday.
...and most importantly of all... We wish you all a Merry Christmas and fabulous holiday period!
13th of December
Last Thursday, Year 6 had a special visit from Flight Left Lieutenant McClune, from the R.A.F who provided us with a sensationally detailed workshop about the Dambusters and the plans that were used.
On Friday, we had visitors into Year 6, who gifted us a tree to plant at home. We learned how to look after the tree, how to take good care of it and the importance of trees.
Well done to the children who participated in the netball tournament at JKHS on Wednesday afternoon. You all displayed fantastic teamwork.
3rd of December
Last week, we were lucky to have a visit from Mrs Saunders, who informed us and provided us with information on what life in Berlin was like during the cold war. We asked lots of questions and Mrs Saunders showed us lots of pictures from her time in Berlin, including her old passport.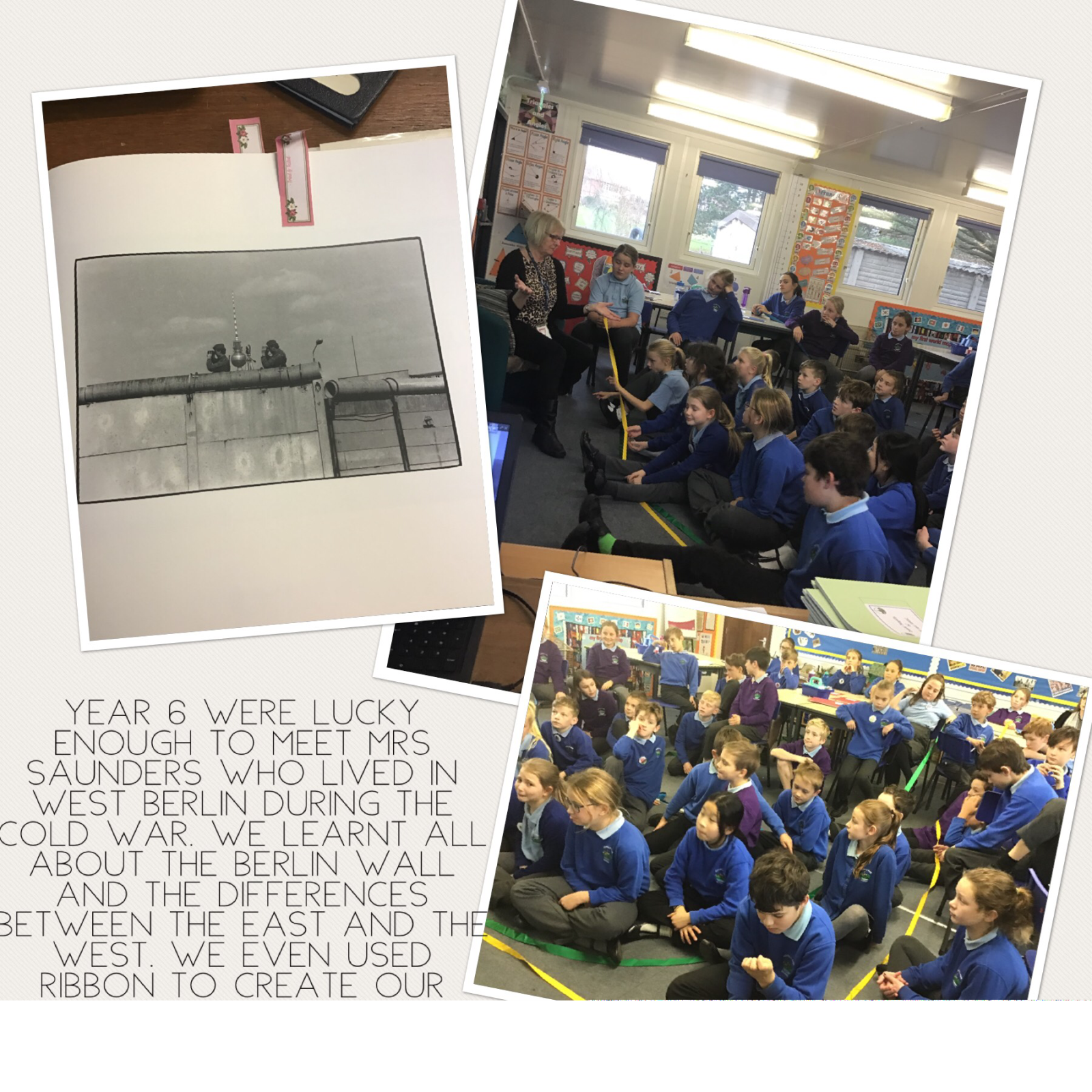 19th of November
Today we visited a Mosque and cathedral in Gloucester. The Imam taught us how Muslims worship God and how they show commitment to God through the five pillars of Islam. At the cathedral, we participated in lots of creative activities. We learnt about the importance of stained glass windows, the features of a cathedral and how Christians worship God.
14th of November
This week we have been very lucky to have a visitor into our school. Beryl is a survivor of the prisoner of war camp in China. She told use lots of interesting stories and shared lots of fascinating pictures with us.
5th of November -
Hope for the world and mankind week
All week year 6 will be looking closely at the topic of remembrance. We have many activities, trips out and guest visits this week so be sure to check the dates to remember.
Dates to remember: This Monday is the first day of hope for mankind week, year 6 will be looking closely at the WW1 Christmas truce.
Tuesday - Make sure you remember your pink or purple T-Shirts year 6 as we will need them ready for our whole school 'Rainbow of Hope' photograph. We also are lucky enough to have a special guest visitor from John Kyrle High School who will be leading our assembly.
Wednesday - Today the children will be treated to a very special music concert-assembly with the musical stylings of our guest singer - April Shipton. This will be a singalong assembly with songs on the topic of hope.
Thursday (due to a later lunch could all children have a slightly larger snack today)- A very big day for year 6. Year 6 parents are invited to watch our year 6 assembly which will be on the topic of remembrance. If all parents could be ready and in the hall for 9:10 we should be able to start promptly.
Shortly after, year 6 will be visiting the Korean Veterans Memorial and later the prospect to take part in an act of remembrance. We will also be singing for the gathered dignitaries. The children will then have an opportunity to meet various members of the Royal British Legion and other service members at the Royal for squash and biscuits.
Finishing up our very busy day we are delighted to welcome an ex-prisoner of war who spent WWII in a Japanese Prisoner of War camp. We will have a short talk followed by an opportunity to ask some questions.
Friday - On Friday the Year 6s have the opportunity to visit St Marys for an afternoon hands-on remembrance 'experience'.
15th of October
Dates to remember: This Wednesday is the social, emotional and behavioral parents evening. For more details please see the office.
Firstly, a massive congratulations to the year 6 Hi-Fives netball team who confidently won their pool! Excellent displays of sporting prowess from all involved.
Year 6s have now received their parts for the year 6 class assembly on the topic of remembrance. They have been given small slips with their lines on. The full script is also available in the documents section of our class page, alongside lyrics of songs should you want to rehearse further.
Those who have volunteered for the civic service this coming Sunday have been busy rehearsing. They are also heading to St Mary's church to try out the acoustics this Tuesday afternoon.
Digital leaders will be busy all Wednesday assisting Ashfield Park host a local area Digital leaders conference
In sporting news, good luck to our quicksticks team who will be representing Ashfield Park at a tournament this Wednesday.
Rounding up another busy week at Ashfield Park we are very fortunate to have the Ogden Trust visiting year 6 for a very special hands-on practical afternoon of science experiments and displays.
10th of October
Today in Year 6, we had a special assembly led by Mrs Jones and Miss Stephens, which linked to World Mental Health Day. We continued to think about our mental health and our feelings. During circle time activities, we discussed what makes us happy and strategies for coping with different emotions. In Year 6 we thoroughly enjoy participating in a range of mindfulness activities. Today Miss Fitzpatrick read the story of Inside Out to us all whilst we performed a range of traditional yoga positions. We learned that yoga is a great relaxation tool.
Next week, selected Year 6 children have been chosen to participate in the Quick sticks School Games tournament at John Kyrle High School.
2nd of October
A busy week for our year 6s, I am sure they are all very excited about their upcoming taster day at John Kyrle High School this Thursday.
All children will be taken to John Kyrle by bus from Ashfield - it is important that all children come to Ashfield as normal and do not walk to John Kyrle.
On the taster day, the children will get to experience some exciting secondary school lessons and even have a free lunch (apparently there is such a thing!).
Year 6s must wear their normal Ashfield uniforms and must also bring something to write with as John Kyrle will not be providing pens or pencils.
In sporting news we wish our netballers good luck at the high fives tournament this Wednesday.
26th September
We have had a fantastic day celebrating National Health and Fitness Day. An incredibly refreshing start to the day, with the introduction of our 'Mile-a-Day'. Thank you to all of our parents who joined in with the walk or run.
We continued the theme of Health and Fitness Day through activities which taught us what it meant to be healthy.
Across the country, many schools and businesses participated in the plank challenge. We gave it our best shot to see who could hold the plank position for the longest in Year 6.
As part of being healthy we understand that it is not just about being physical but we need to relax and have time to be mindful. Throughout the morning, we listened to mindfulness music and guided meditation.
19th September
Reading: In order to continue our drive on reading your children should have brought their lovely new reading diaries home.
Reading is a core part of homework at Ashfield Park and it is expected that your child reads for 15 minutes per day at home. In order to make sure this is happening we are asking for diaries to be signed by an adult daily. If the diary is not around e.g left at school it is fine to write pages read and sign a scrap of paper to be brought in. Additionally, If your child attends after-school club or breakfast club and reads an adult there is more than happy to sign.
Bikeability continues... There have been some large changes to Bikeablity this year. Please view the 'Bikeability 2019' letter as listed below.