Year 4
Welcome to our class page. Here you will find all of the exciting things that we are getting up to in Year 4. Whether you are a child or a parent, this section will have information to help you maximise learning and find out about what is going on, including homework, curriculum details for each year group's wider learning opportunities.
Mrs Yearsley and Mrs Fitzroy
Friday 15th March
Wow! We have had an amazing week here in Year 4. We have been carrying out lots of wonderful experiments and activities as part of our STEM week in school.
We were set a challenge in our science lessons, linked to our WaterAid topic. We had to design and create a filtration system to produce the cleanest water and we got to try out lots of different materials and processes. We also had to carefully plan our investigations, thinking about the properties of the materials selected and how efficient they would be when used as a water filter.
In our Design and Technology lessons, we designed and made boats, powered by a propeller. We created a prototype based on an existing, basic design and then we systematically modified and adapted different aspects to improve them. Well done to all of our children: everyone showed resilience and a positive attitude in a mature and challenging working environment. We had some great results and we got to show our work at the STEM fair which was a huge success.
We would like to say a big thank you to our children and adults who came to support us; we hope you enjoyed it as much as we did.
We hope you have a wonderful weekend and we will see you next week.
Mrs Fitzroy, Mrs Yearsley and all of Year 4.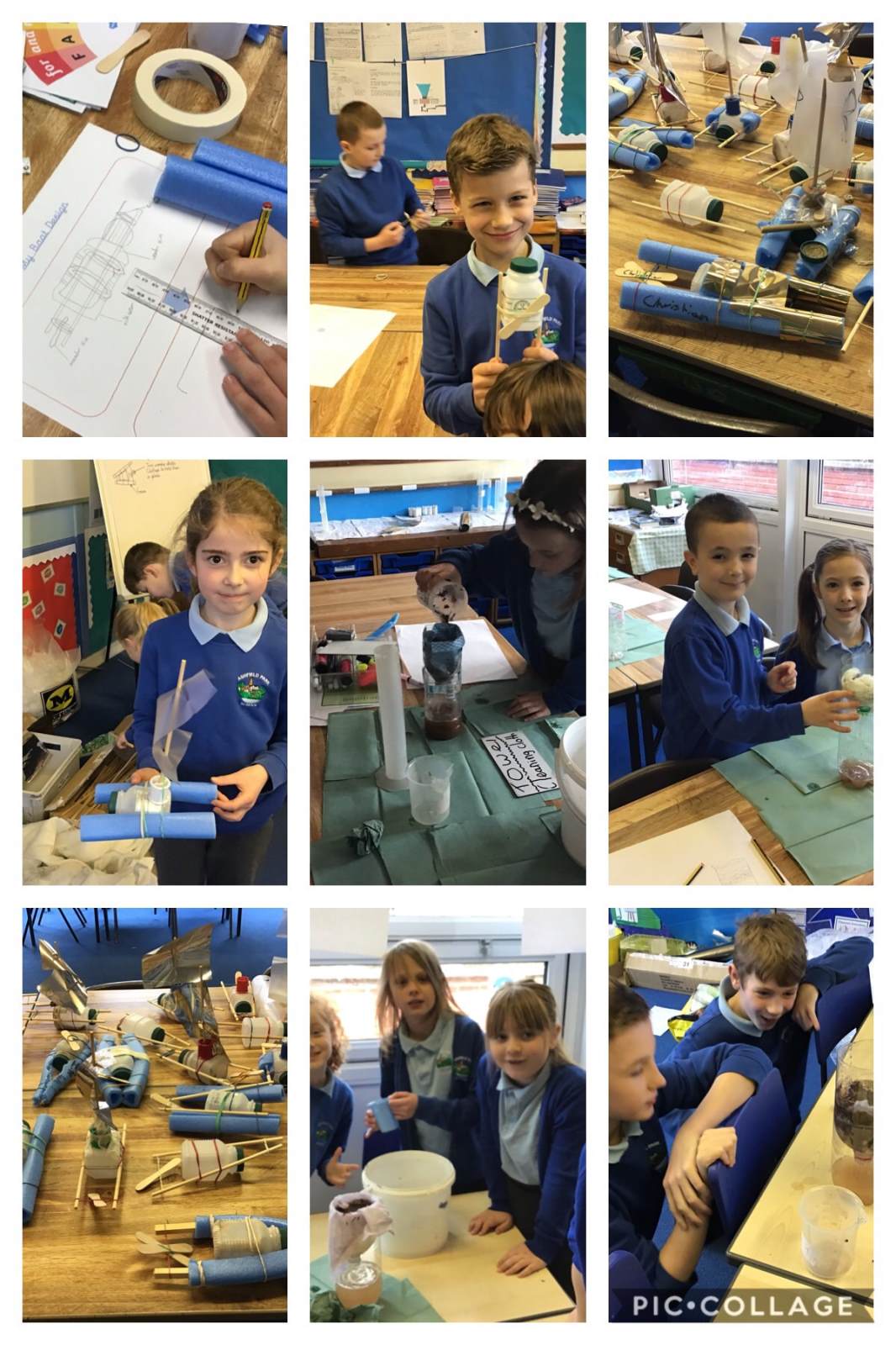 Wednesday 6th March
What an exciting week we're having so far! In our maths lessons, we have learning all about fractions: how to represent them in different ways; how to find equivalent fractions and how to find unit and non- unit fractions of amounts. This was quite challenging for some of us at first, but we are starting to get the hang of it. Well done to all of our children for being resilient learners.
In our English lessons, we have been continuing to explore non- fiction texts an in particular, newspaper reports. We are really enjoying this genre of writing and we can't wait to write our very own soon. Stay tuned for some fantastic writing on our page.
Also this week, we have begun preparation for our WaterAid assembly which will be in two weeks time (Wednesday 20th March). We are so excited to share our research about this wonderful charity and hopefully raise some money. All of the details about this will be sent out and will be posted on our website.
Thank you for your continued support,
Mrs Fitzroy, Mrs Yearsley and all of Year 4.
Year 4 are very pleased to welcome Mrs Fitzroy to Year 4. The year group is already steaming ahead with a Literacy unit called 'Gone to Sea', which the children are enthralled by. They can't wait to find out what happens to the main character, William, in the end. In Maths, we are hard at work learning our multiplication tables and learning how to solve increasingly complex problems involving multiplication and division. Please support your child in learning their times tables - they are all very keen now to get them learned.
The Spring Link Letter is attached above, as is a form for you to sign up for Maths homework if you would like your child to do it.
4F parents, don't forget the Meet the Teacher meeting on Tuesday 15th January. Mrs Fitzroy would love to have the opportunity get to know you all.
Be Proud
Well done to all of the children this week. They have shown great resilience in undertaking their termly tests. Every one of them has tried their very best to show what they know. They have also really enjoyed their dance, based on Ancient Roman fight scenes. Ask them to show you some of their fancy moves!
Please note, your children either have or will be bringing home parent evening letters. 4Y will be having theirs after Christmas, but 4K is on Tuesday 11th December. Please could 4K parents return the slips as soon as possible.
Roman Day - 20th November 2018
Yesterday Year 4 had a wonderful day with the children dressing up in Roman costumes and taking part in Roman activities. The children all looked incredible and had an amazing day cooking, singing, learned Latin and made some mosaics. Have a look above for some photos of the day!
10th October 2018 Class Update
What a fantastic trip we had to Caerleon this week! You can be really proud of your child, because all of the children were superbly well behaved, engaged, interested and, in all, a credit to Ashfield Park. The children learned so much and the trip has really brought the topic to life for all the children! Those children who haven't completed their homework projects yet, may well be able to include some of what they have learned on the trip! On that note, the homework is due next Friday so that we have time to prepare the children for the exhibition on 25th October. If you need a reminder of what is needed, it sheet is attached above.
We also wanted to say a huge thank you to all parents who have supported their children in their daily reading and completing their reading diaries. It's great to see the majority of children meeting their target of reading at least 5 times a week.
3rd October 2018 Class Update
What an eggstrordonary and eggciting, week we have had in Year 4! Check out the photo gallery.
Our eggsperiment has reached its conclusion. Ask your children about eggsplosive eggs! On a more serious note, the children now have a much better understanding of why they need to brush their teeth regularly, especially after eating sugary food, so please try to remind them. We have also been learning how our tongues help us to taste things. This involved tasting bitter, sweet, sour and salty liquids and finding out where on their tongues they could taste the different flavours.
In maths, we have been using negative numbers and learning how a thermometer works. We now know that ice freezes a 0 degrees C.
We are still awaiting a few Caerleon trip replies. Please could you return them asap now, so that we can do our final planning. Thank you.
We have now started switching the children over to the new reading scheme. You may notice that they are in a different colour. Please don't worry, they have been put on the correct level. We have a fabulous collection of books for the children to enjoy, so please make sure your child reads every day and brings in their diary (signed by you)
Please make sure you return your Caerleon trip permission as soon as possible.