Year 2
Welcome to our class page. Here you will find all of the exciting things that we are getting up to in Year 2. This section will have information to help you support your child and maximise learning by finding out about what is going on, including homework, curriculum details and wider learning opportunities.
Our topic this term is 'Polar Explorers'.
Our P.E days are Monday and Friday - Please can you make sure your child has a complete P.E. kit which includes trainers.
Mrs Mutton, Mrs Oates and Mrs Hughes.
This week in Year 2
18

/1/19
Please find our Spring Term Newsletter and Spring Topic Homework below.
We are very impressed with how quickly the children have settled back to their learning. Please support your child to establish and maintain good routines e.g. reading daily, practising spellings and remembering to bring PE kits and library books. It is really great to see that many of the children are developing independence and taking responsibility for their learning. We have begun learning about multiplication. We have been using the term 'lots of' to help us remember what this means. Ask your child to show you what this means. In Literacy we have begun our unit 'Lost and Found' we have been busy writing letters and predicting our own endings for the story.
Previous weeks
18/12/18
Our elves are continuing to entertain us. Today they set us the challenge of making reindeer food. We even had to write out some instructions for them. The children will be bringing their eco-friendly reindeer food home this afternoon, ready for Christmas Eve. Tomorrow we will be making and decorating Christmas biscuits and finishing our embroidered Christmas baubles. We are very excited about Christmas lunch on Thursday and Christmas jumper day on Friday. In maths we are still working hard to complete our unit on money. The children have really enjoyed this and it has been good to hear that some of them have been using real money outside of school.
We wish you a very Happy Christmas and New Year and we hope you enjoy a well deserved break. Parents' evening slips have been sent home and we look forward to seeing many of you in January.
12/12/18
Wow what an amazing week! All the children's hard work really paid off in our two excellent performances of The Innkeeper's Breakfast. We are so proud of the children and we're sure you are too. Thank you for your support learning lines and providing costumes.
The elves are continuing to have some fun in our classrooms. 2H came in to a bit of a mess on Monday because Elfie had hosted an elf party! Luckily the children helped Mrs Hughes to tidy up! 2MO thought they'd lost their tinsel decoration until they spotted Snowflake wearing it! However both the elves were so impressed by the show that they had left candy canes for the children.
5/12/18
This week we were amazed to find an elf in each classroom! There were letters asking us to name our class elf and explaining that our elf would be reporting back to Santa. 2H named their elf Elfie and 2MO named theirs Snowflake. We have already discovered that our elves are very cheeky. See the pictures below. We have written and sent letters to Santa - this was very exciting and we really tried our very best. Hopefully he will send a reply to our home addresses. We are starting to learn about money. It would be really beneficial to encourage your child to count coins at home and pay for some items next time you go shopping. Thank you for sending in all the fabulous costumes. We are really looking forward to performing our nativity. Performances are next Monday and Tuesday at St Mary's Church.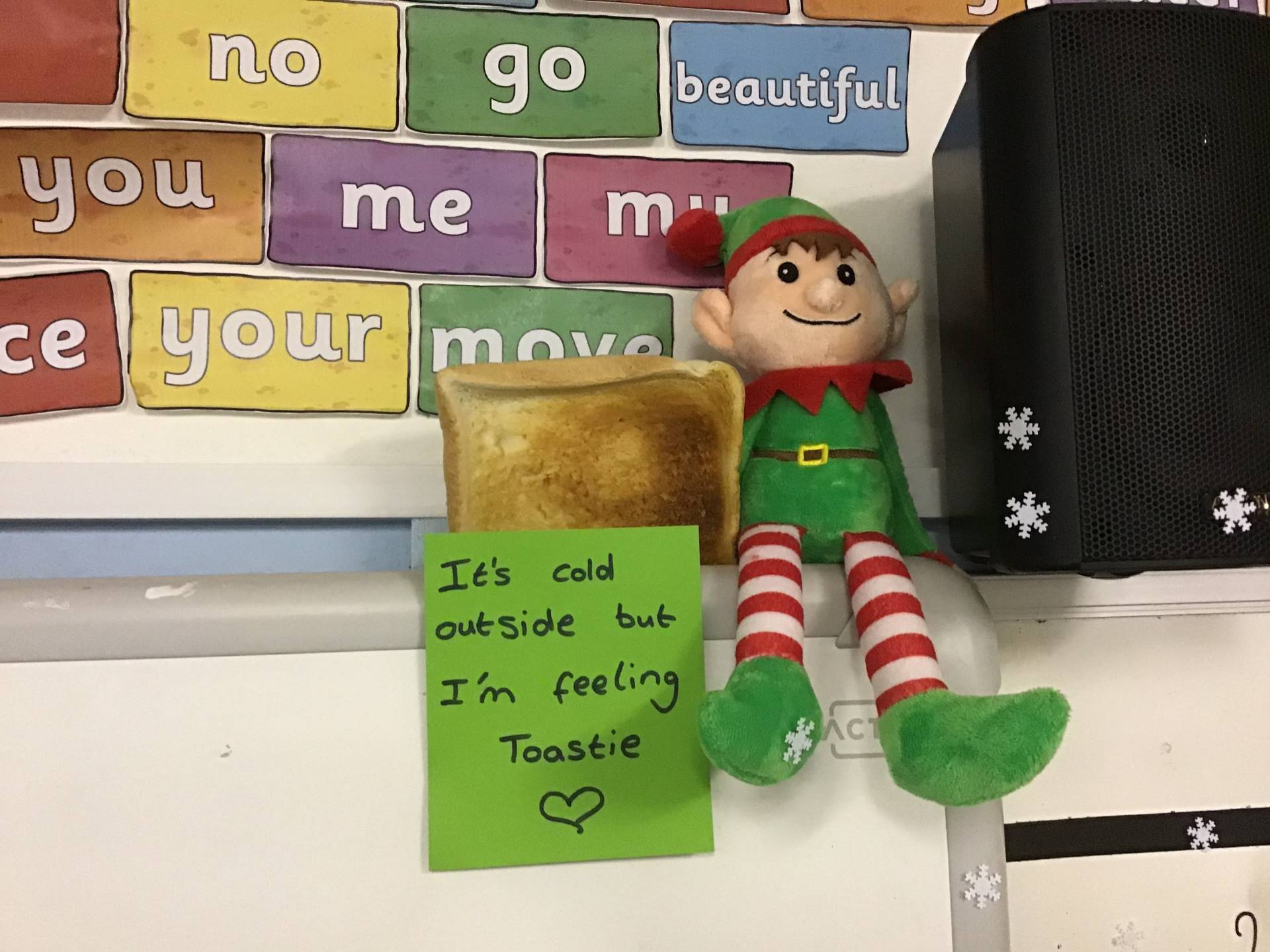 26/11/18
We are very busy rehearsing for our Christmas play. Today we practised, for the first time, in the Saint Mary's church with Year 1 and Reception. Together, the children practiced their lines, acted on the alter steps, and sang beautifully. We are really looking forward to our first dress rehearsal on Friday the 7th. Thank you to everyone who has already sent their costumes - we hope to have all costumes in by Monday 3rd December. As always, please speak to your child's class teacher if there are any issues. Please continue supporting your child to learn their lines, this really makes a huge difference. See below for pictures from our first church rehearsal. Don't forget to order your tickets from the office.
20/11/18
We are well under way with rehearsals for our Christmas nativity, The Inn Keeper's Breakfast. There will be performances on Monday 10th and Tuesday 11th December, at 1:30pm, at St. Mary's Church. Details of tickets will follow soon. Your child has been given a letter with information about their costume. Please speak to their class teacher if there are any questions or issues. We are looking forward to tomorrow's money and savings workshop, led by staff from Nationwide Building Society. In Maths, we are learning how to use drawings to help us subtract 2 digit numbers. In Literacy, we are continuing with non-fiction writing linked to the Great Fire of London. We have also written some poems, using our senses, about Bonfire Night and firework displays. We are very proud of the children's work. Here are some examples: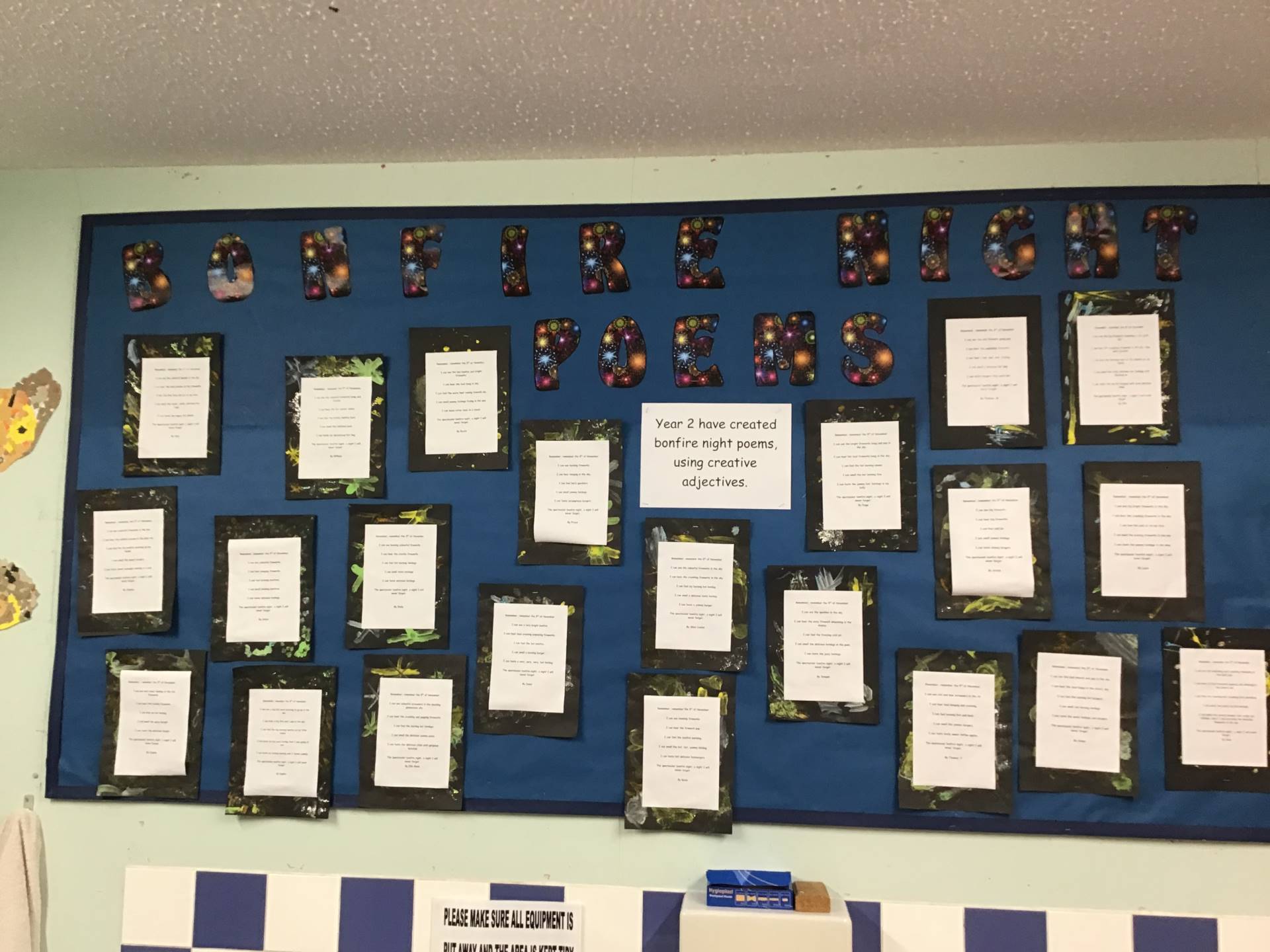 7/11/18
We are having a very exciting week thinking about Hope for the World and Mankind! On Monday, we had a 'magic visit' from a World War 1 soldier, dressed up in uniform. He was able to answer our questions about what went on and why we are especially remembering The Great War this year. On Tuesday, Mr. Wardale from JKHS took our assembly and helped us to think about our hopes for ourselves and for the world. We have been carrying on with this work in class. Today, April Shipton and her father sang some songs for us and talked about following our dreams and helping other people. We have made some poppies for a school display and painted some beautiful poppy pictures. Thank-you to everyone who has brought in shoeboxes and craft materials. We will use these next week so do keep them coming!
Maths has continued as usual. This week, we have had a go at using column addition to add 2 2-digit numbers.
26/10/18
At the start of the week we were very excited to find a mystery box on the school field. We wrote letters to Mr Kendrick to see if he knew anything about it. However, we couldn't believe it when we had a special visit from King Charles II! When he told us that the box belonged to him we were very keen to help! King Charles told us about his experience of the Great Fire of London which helped us produce some fantastic descriptive writing. We finished the week making special tea stained paper which we used to write our own diary entries. In maths we have been thinking about 10 more and 10 less and we spotted some patterns. Hopefully your child can wow you with their amazing maths skills!
We will be changing library books every Wednesday. Please support your child to return their books each week, ready to swop.
10/10/18
The children wrote some lovely recounts of our day in the forest. There were a lot of happy memories of the things we did and saw. We are using our experience to help us with our writing about Robin Hood. In maths, we are continuing addition and subtraction work. We are looking at fact families and making the links between adding and subtracting. It would be really helpful if the children can practise number bonds that make 10 and for a challenge pairs that make 20. Today the children created timelines of the Great Fire of London. Hopefully they can talk you through the key events starting with when and where the fire started....!
4/10/18
Another busy week for Year 2. We enjoyed our fabulous trip to the Dean Heritage Centre. The children had so much fun building dens and learning about different materials. We were very proud of the children's behaviour, and it was lovely to see how well they worked together to complete the challenges. See our gallery for photos from the trip.
Thank you for your support with home reading. Please remember to fill in your child's diary daily. The children are clearly excited about their homework task, and it is lovely to hear about their ideas and projects. Projects are due in by Friday 19th October but feel free to start bringing them in to school.
In Literacy, we have begun our new story Robin Hood. The children impressed us with their imaginative predictions. In maths, we have just begun addition and subtraction.
26/9/18
This week in Y2, we have been comparing numbers and putting them in order. For Literacy, we created a new character for The Highway Rat story and had fun thinking about what they might eat!
We have learnt some more about what homes were like at the time of the fire of London and we made some brilliant houses for our display.
Today , we had lots of fun walking round the field as part of the 'Golden Mile' initiative to keep ourselves fit and healthy.
We are looking forward to our visit to the Dean Heritage Museum next Wednesday. Please can we have the outstanding forms returned as soon as possible.
19/9/18
Enclosed below is the Meet the Teacher power point made by Mr Kendrick. It gives details of school routines and other useful information. Also you will see our topic homework sheet. This has been explained to the children but if you have any questions please ask your child's class teacher.
This week we have started our new topic 'The Great Fire of London'. We wonder if the children will find out any exciting facts, at home, ready to share next Wednesday.
Also we have been continuing the story of The Highway Rat. Today the children amazed us by spotting lots of rhyming words. In maths we are comparing numbers. Hopefully your child could show you the symbols we use to record greater than and less than.
A letter has been sent out with details of our trip. We would be grateful if you could return the reply slip and payment ASAP.