Reception
Welcome to our class page. Here you will find all of the exciting things that we are getting up to in Reception. This section will have information to help you support your child and maximise learning by finding out about what is going on, including homework, curriculum details and wider learning opportunities.
Mrs Reid, Mrs Morgan and Mrs Sergeant
This week in Reception
20th March
This week Reception have been very busy developing travelling and balancing skills in PE. We have been thinking about our bodies and finding ways to stay healthy through exercise and healthy eating.
In literacy RSM have been exploring the 'Supertato stories' and are looking forward to creating our own masks made from natural materials in our Forest School session. Minibeasts have been the focus for RR this week and they have been busy hunting in the outdoor area and recording facts.
We have been exploring pairs of numbers that total 5 in maths and using practical resources to support our learning. We are encouraging the children to explore this further at home using items around the house.
5th March 2019
We have had a super day making pancakes. We made the batter and enjoyed an expert pancake flipping demonstration from Mrs Lines and Mr Crane. Delicious!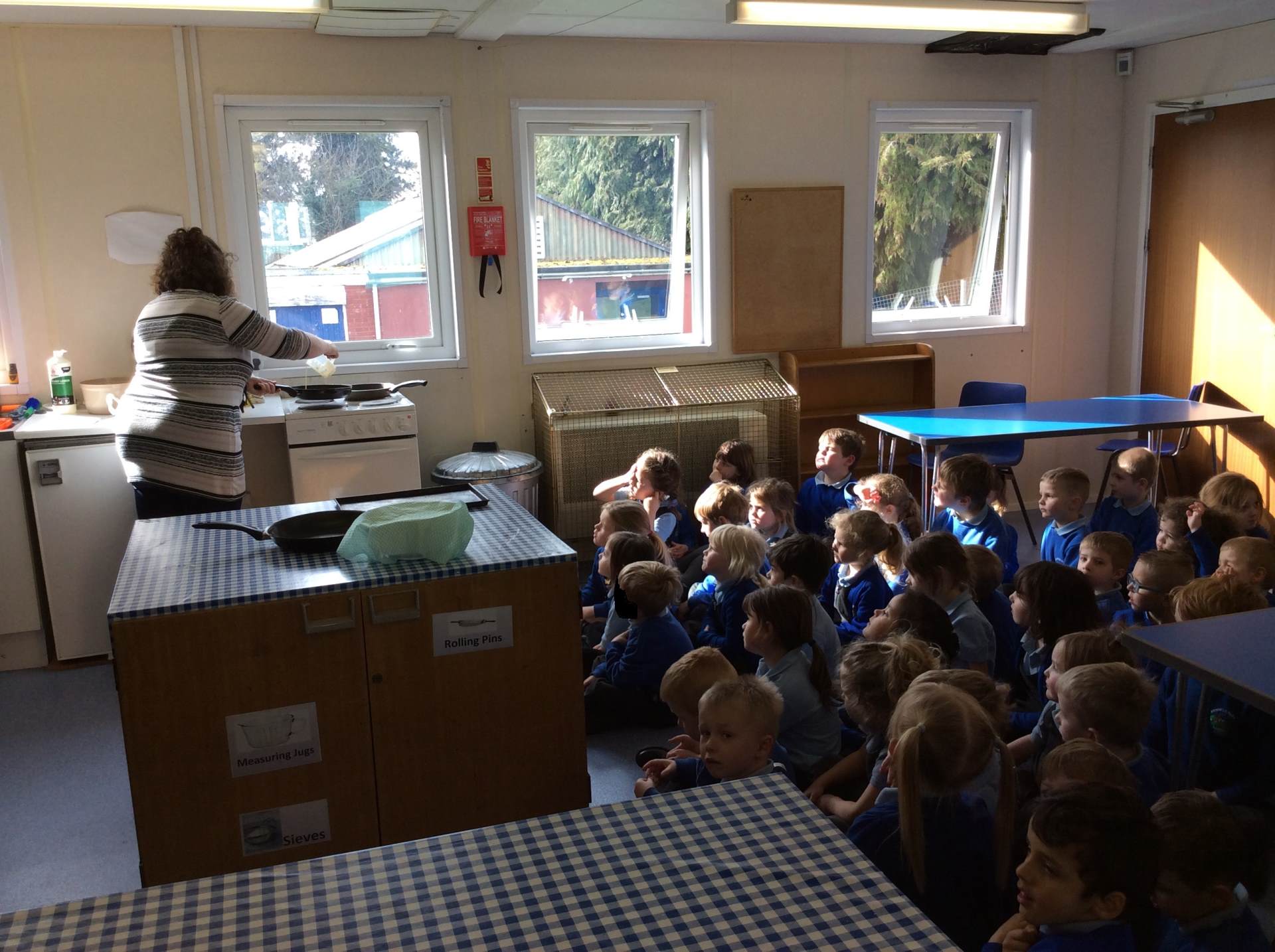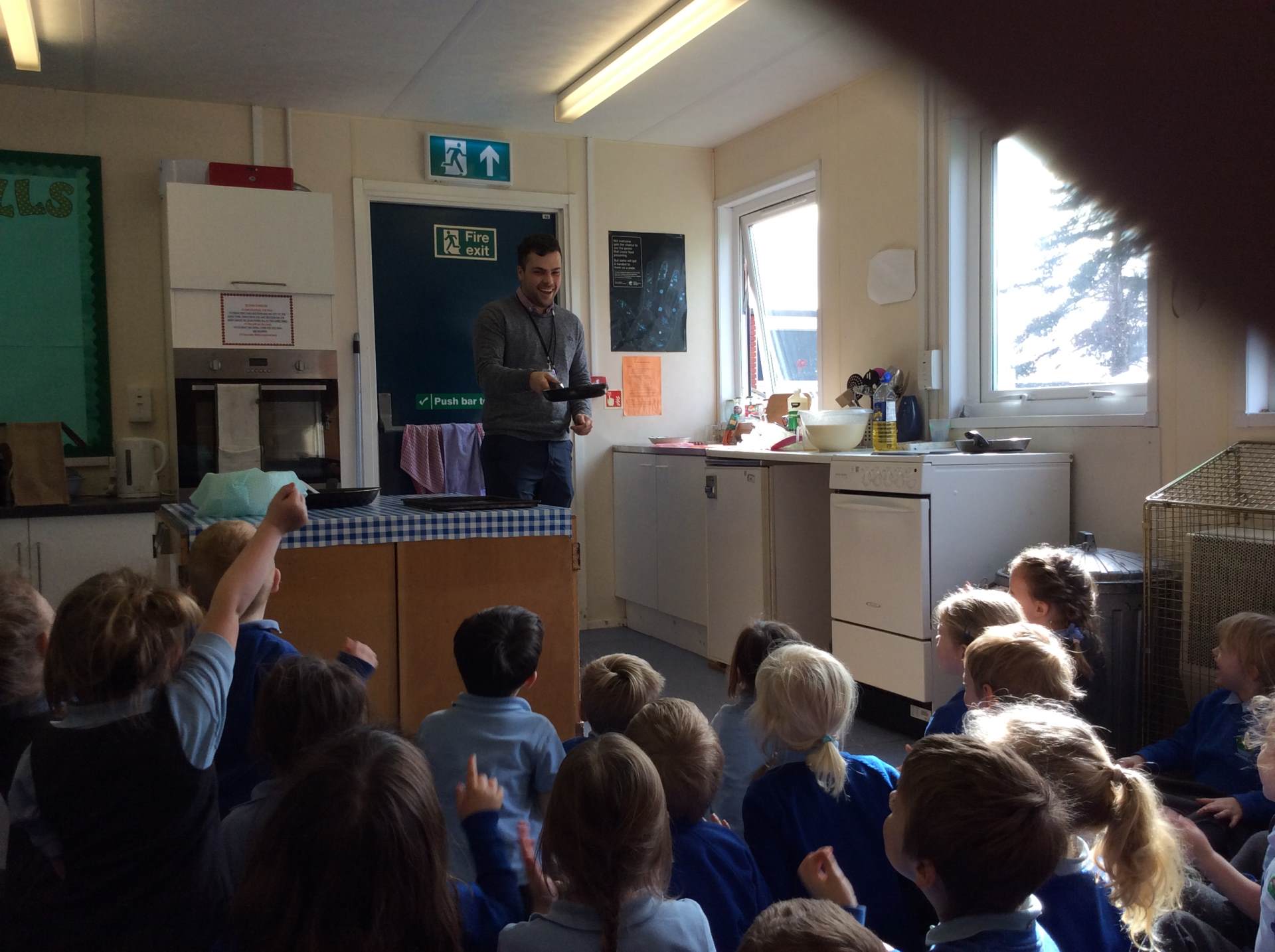 13th February
Reception had a fantastic time on Friday celebrating Chinese New Year. We were able to take part in a parade with our Chinese dragon and also had great fun tasting some Chinese food!
This week we are exploring capacity in maths. We have been investigating a range of containers to find out how much they hold and will soon be making our own potions linked to the story of 'Room on the Broom'.
In phonics we have continued to learn our long vowel sounds and have been applying our phonic knowledge when writing our own versions of 'Room on the Broom'.
Please continue to support your child to practise sounds and letter formation at home.
We hope you all have a fantastic half term!
The Reception Team
6th February
This week we have been exploring the story of Stick Man. We had great fun when we went on a Stick Man hunt to discover different sticks and have been linking our learning to maths and measures by comparing lengths.
In Literacy we have been busy producing our own pages linked to Stick Man by illustrating and creating captions.
We are really excited for our Chinese New Year celebrations on Friday!
23rd January
The children in Reception are continuing to explore activities relating to the Gruffalo story by Julia Donaldson. They have done some writing about the story, retold the story using puppets and props and painted some fantastic Gruffalo paintings! They paid attention to detail and included all the features , including the purple prickles all over his back!
They have also participated in a counting activity and recorded their work in books. This week, the children have been ordering numbers to 10 using Numicon to make their own Number line.
This week in Literacy, they have learning about snakes and discovering lots of facts! They have recorded their work in Literacy books.
Gruffalo P.E. has been lots of fun too! The children have been exploring different ways that the animals in the story move and travel!
Next week, we will be looking at some more Julia Donaldson stories and the Reception Team have lots more exciting activities planned.
19th December
We have had a fantastic week in Reception making Christmas cards, Christmas decorations and writing letters to Father Christmas.
The pantomime was fantastic last week and we are very excited for our Christmas dinner tomorrow.
We hope you all have a fantastic Christmas and look forward to seeing you in the new year!
The Reception Team
12th December
We would like to say...
Well done to all children in Reception and Key Stage One for a fantastic Christmas production. Thank you to all parents for their hard work with costumes. We were so proud of every child and couldn't have asked for any more!
This week we are continuing Christmas activities and have been role playing the Christmas story. We are very excited about our pantomime tomorrow and party on Friday.
Could we please remind you to send your child with party food (as requested on the letter) and party clothes in to school in a named bag.
5th December
This week we are continuing to prepare for our production - we are all very excited for our performance next week!
As classes we have been learning about the story of Christmas. We have been thinking about the characters and recalling events from the story through talk and writing.
We have also been focusing on developing our letter formation. Please remember to continue to use your letter formation mats to practise at home.
28th November
We have been very busy practising for our Nativity. The children have been brilliant at learning new songs and can't wait for our performances.
We are continuing to develop our segmenting and blending skills. Please continue to read at home as this allows the children to consolidate their learning and builds solid foundations for future reading.
In maths we are continuing to think about addition using part, part, whole models. The children have been using practical equipment to support their thinking.
We are looking forward to next week and exploring a range of activities linked to Christmas!
21st November
We had a fantastic time this week making gingerbread men. The children were excited to explore the ingredients and used a range of equipment. We have been linking our writing and our addition and subtraction to this theme.
In PE we have been exploring balancing and travelling. The children have also been thinking about speed and developing their gross motor movements.
We are already looking forward to our Christmas performance - rehearsing and learning a range of new songs!
Note: All costume letters have now been sent home. Please speak to a member of the team if you need any help with sourcing a costume.
14th November
In Reception we have been exploring the story of The Gingerbread Man. We discovered that The Gingerbread Man had been in school so in classes we decided how to trap him. Our writing this week has been based around this, using our phonics knowledge to support our spelling. We have also been learning about more/less using practical resources to support our thinking in maths.
We are going to continue to explore the story of The Gingerbread Man next week and we are looking forward to making our own gingerbread men!
7th November
Hope for the World and Mankind Week...
This week we have explored 'Hope' in many different ways. We have been learning about harvest and baked our own bread to then share with people around school. To mark Remembrance day we each created a poppy to add to the whole school display.
Today we also learnt about Diwali and how it is celebrated. We had great fun exploring this festival through music and dance!
17th October
What an interesting week in Reception! This week we were visited by one of the bears who left muddy footprints and shopping bags in our classrooms. This inspired us to explore news reports and factual writing linked to bears.
In maths we have been continuing to explore numbers to 10 through games, activities and in music. Please continue to look for numbers at home and when out and about as this will support your child in understanding the importance of number in everyday life.
10th October
We are already having a fantastic week in Reception. On Monday we went on an Autumn walk in the school grounds. We collected a range of natural objects and added these to class displays. We have also been using these natural objects to support our counting in Maths (0-10). The children are continuing to learn the story of Goldilocks and the Three Bears. We will be exploring character feelings through drama, discussion and in writing.
Today the whole school explored mental health to mark World Mental Health Day. In Reception we focused on the importance of feelings and both Mrs Morgan and Mrs Reid were very impressed with the children's ideas.
Reading continues to be a key aspect of the Reception year. If you have any questions about how to support your child then please speak to your child's class teacher.
3rd October
Another busy week in Reception! We have been exploring the story of Goldilocks and the Three Bears through drama and have also made our own porridge by following simple step instructions. The children have been working extremely hard to retell the story using actions. There will be a copy of the story in book bags next week for you to practise at home.
We are continuing to investigate Autumn and are building our own class displays using natural materials. It has been great to see the children bringing in their own items. We hope to see this continue as next week we will be going on an Autumn walk around the school grounds.
26th September
Reception had a fantastic time walking the mile today! We talked about how to stay healthy and the children came up with some fantastic ideas. Our outdoor area has been very busy with imaginative play and storytelling, especially with activities linked to Goldilocks and the Three Bears.
Please continue to read daily at home. The children have made a fantastic start to reading already!
19th September
This week we began to read the story of Goldilocks and the Three Bears. We have been measuring porridge, starting writing and even acting out the story with props. We are going to be exploring size linked to the story and creating our own painting.
The children have been amazing in phonics and have already been exploring the a and s sounds. The sound books will be going home this week - Thank you to everyone who attended this morning's phonics meeting. All information is now on the website.
14th September
What a fantastic first week in Reception! The children have been very busy and have had great fun exploring their new school.
We had an exciting first PE lesson and have enjoyed using the play trail throughout the week. There continues to be lots of imaginative play in the outdoor area with new friends being made all the time!
Well done to everyone for such a great start to reading. Books will continue to be changed after being shared at home.
We are all already looking forward to another great week!
Reminder - Reception Phonics Information Meeting on Wednesday 19th September